Mont Ventoux Soleil des Garrigues 2014 Fine Red Wine
SpeedyShark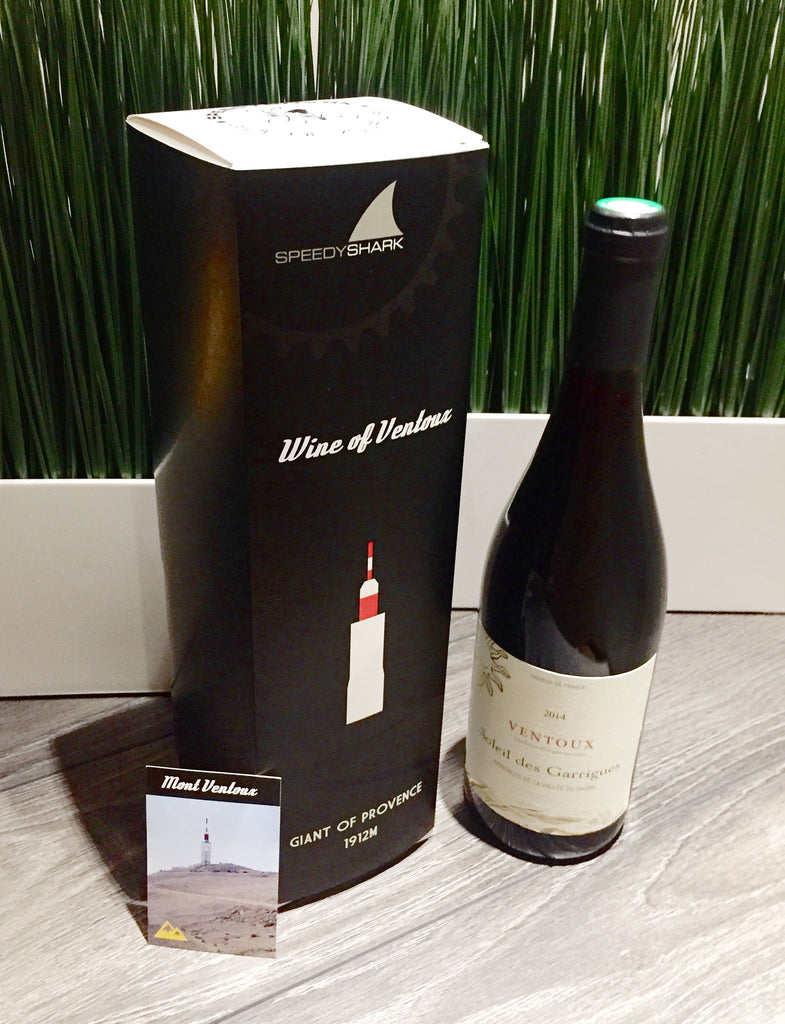 Introducing SpeedyShark's Mont Ventoux Fine Wine Gift. Presented in a retro style gift box is a 750ml bottle of Ventoux Soleil des Garrigues 2014 Red Wine and a legendary Mont Ventoux mountain climb information card.
An ideal gift for any cycling enthusiast, or simply treat yourself and enjoy a majestic glass of red wine that has come from the lower slopes of this iconic mountain which has featured on many occasions in the Tour de France!
It was believed in the 1906 Tour de France in stage 5 that rider Pottier was leading by approximately one hour at the halfway point. As legends go, he decided to quickly stop, enter a bar on the roadside and ordered a bottle of fine French red wine, he almost drank the complete bottle. As he saw the other cyclists passing by, Pottier jumped back on his bike and went after them, and miraculously won stage 5. 
An intense and consistent garnet colour, this lovely wine offers aromas of berry fruits with notes of herbs, pepper, vanilla and wood followed by concentrated juicy flavors of dark cherry.
From the lower slopes of Mount Ventoux in south eastern Rhone, where there is evidence of wine production from as early as 30AD.
Light and lively, great for Pinot Noir and Beaujolais enthusiasts too!
ABV: 13%

Bottle Size: 750ml

Colour of Wine: Red

Body: Medium

Country: France

Region: Rhone

Main Grape Variety: Grenache

Vintage: 2014

Occasion: Dinner party or enjoying a glass with your cycling friends!

Perfect With: Pork, sausages, soft cheese or pasta

Grape Mix: 65% Grenache, 20% Syrah, 15% Cinsault

Made by Vignobles de la Vallée du Rhône

Gift Box
Dimensions: Length: 320mm, Width: 100mm, Depth: 100mm

Information Card 
Dimensions: Length: 85mm x Width: 55mm
Stock: Printed on 350gsm premium white card

Our Mont Ventoux Fine Wine Gift consists of one information card which is placed within the wine box.

On the reverse side of each card you will find varies sporting achievements and geographical points of interest regarding the history of Mont Ventoux.
Packaging designed and manufactured in the UK. Wine is produced and bottled in France.
Important: You must be aged 18 or over to purchase this product.