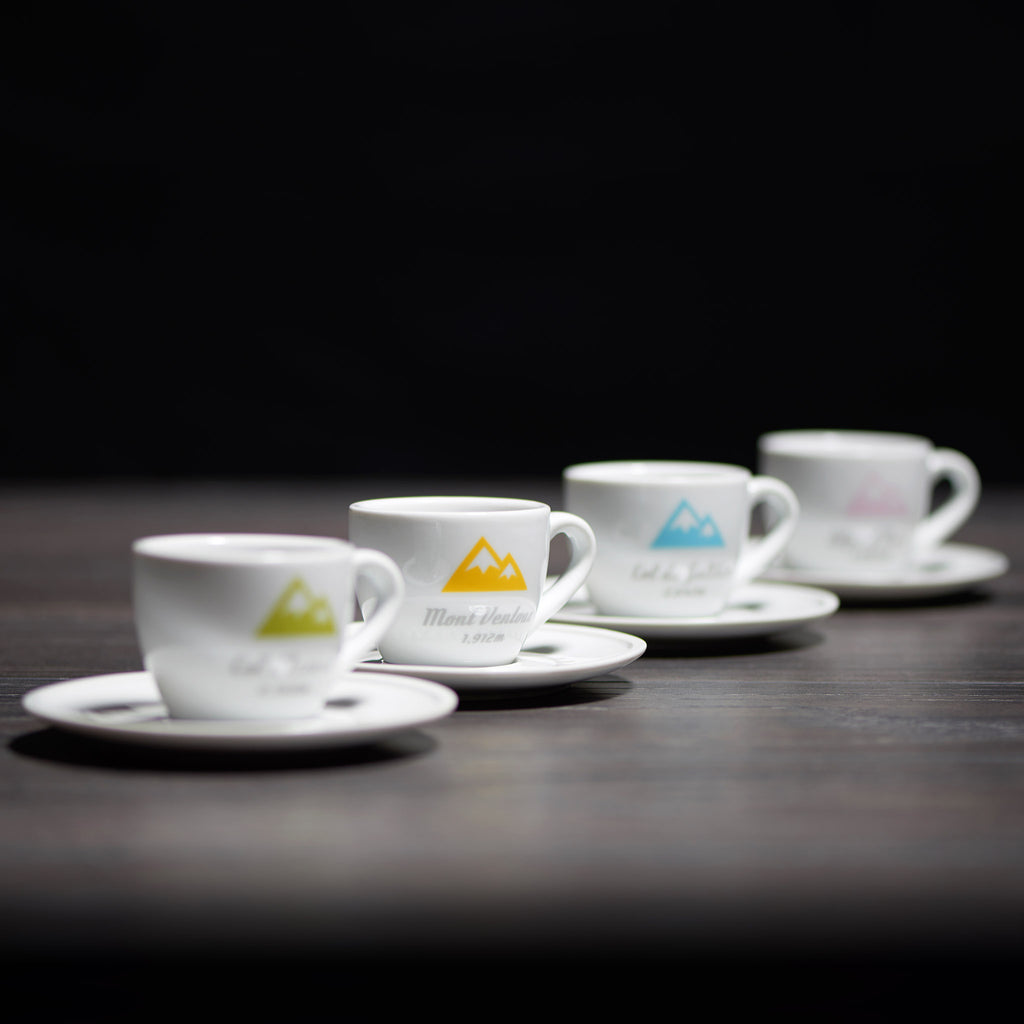 Introducing our cycling inspired French Alps Espresso Collection Series 1.
Presented in a retro style gift box including four legendary mountain climb information cards.
An ideal gift for any coffee drinking cycling enthusiast, or something to impress your cycling club friends with. Whether you are a cyclist or not, this stunning Espresso Collection will be a talking piece in any kitchen or cycling "café"!
Four Espresso cups with matching saucers
Mountain name artwork on the front face of each cup
Chain-ring artwork design on each saucer
Presented in a retro style gift box
Four individual mountain information cards
Pure white high quality porcelain
High resistance to knocks and thermal pouring
Classical and stylish Italian inspired design
Microwave and Dishwasher safe
MORE INFO
COLOURS & CARDS
SPECIFICATIONS
Presented in a retro style gift box, our SpeedyShark French Alps Espresso Collection Series 1 consists of four high quality porcelain cups that are glazed to a premium production level which makes them extremely durable and increases thermal insulation allowing your espresso to stay hotter for longer.

The cups have been created around functionality. The easy hold handle design of our cups has been engineered so that you can securely hold the cup whilst drinking your espresso. A common problem with some espresso branded cups is that you are not always able to get your finger through the handle opening which causes awkward holding, instability and content spills.

This unique collectable set of four traditional Italian style Espresso cups have been produced around four of the most important mountain climbs which consistently feature in the world of cycling. Each individual cup represents an iconic mountain – Alpe d'Huez, Col d'lzoard , Mont Ventoux and Col du Galibier. Each cup includes a mountain name, summit height, retro mountain image and inside the lip of the cup is written "Chapeau!", a wonderful French term which is frequently used by cyclists to indicate respect for another's achievements. By saying "chapeau", which literally means "hat", the rider is doffing his cap to a colleague for a good day's riding.

The collection includes four matching high quality durable glazed Italian designed porcelain saucers. Each has a unique chain-ring design which is displayed in a modern cool grey colour and features a slightly raised internal circle base to help hold your cup securely, the outer lip is also raised to prevent spills. The saucers beautifully compliment the complete set and look stunning either together with the cup or even when individually displayed inside the gift box.

CUP COLOURS
Each cup displays a unique retro artwork image and mountain name on the front face as follows:

Alpe d'Huez (Hairpin Pink)
Col du Galibier (Summit Blue)
Col d'Izoard (Mist Green)
Mont Ventoux (Altitude Yellow)

All text is displayed in a modern cool grey colour.

MOUNTAIN CARDS
French Alps Espresso Collection Series 1 consists of four information cards which are secured and displayed via an internal card sleeve which sits neatly over the cups and saucers within the gift box.

Each card has an exclusive front image displaying an original mountain picture, the Alpe d'Huez card features an anniversary image of the legendary 21 switchbacks which have created so many magical cycling moments on this amazing mountain.  

On the reverse side of each card you will find varies sporting achievements and geographical points of interest regarding the history of each mountain.

Gift Box
Dimensions: Length: 350mm x Width: 145mm x Height: 75mm
Total filled gift box weight: 1,132g

Espresso Cup
Dimensions: Height: 50mm x Top diameter: 63mm
Individual cup weight: 92g
Capacity: 80ml / 2.7 fl.oz
Maximum poured volume: 60ml / 2 fl.oz
Material: Porcelain
Colour: White

Espresso Saucer
Diameter: 123mm
Individual saucer weight: 122g
Material: Porcelain
Colour: White

Information Cards
Dimensions: Length: 85mm x Width: 55mm
Printed on 350gsm premium white card

Designed in the UK and manufactured in China to our exacting specifications.